General Federation of
WOMEN'S CLUBS
Living the Volunteer Spirit
Deb's Diamond Divas
Our fundraising activity at this year's Convention will be 3 large raffle baskets, each with a unique theme. One will be a 4th of July Basket, full of everything you'll need to celebrate our Nation's birthday in style! Another one will be a For Her Basket, stuffed to the brim with shopping gift cards, and lovely items like jewelry, spa products, purses, and even a rolling bag! The third will be a Gardening Basket.
Victorian Unity
Try your luck at winning an elaborately Victorian and gorgeous tablescape at this year's GFCW-IL Convention. This table and all its goodies will definitely transport you back to the days of Jane Cunningham Croly! The tablescape is the result of a Unity project submitted by Joliet JWC, Elgin JWC, Plainfield JWC of District 11, Lombard JWC of District 5 and Princeton JWC of District 17/16 in support of Big Brothers, Big Sisters of Will and Grundy Counties. The table not only supported BBBS, but it also brought to life GFWC's History!
The tablescape was featured at the BBBS fundraiser and has been graciously donated to GFWC-IL as a fundraising opportunity. Raffle tickets to win these items are just $10 each and can be purchased at convention. All proceeds from the raffle tickets will be donated to GFWC's – 1734 Society!
The winner will take home:
- 8 Marquis Waterford crystal flutes
- 8 gold chargers
- 8 Pope Gosser Victorian plates
- 8 Pope Gosser Victorian salad pates
- 8 Pope Gosser Victorian fruit bowls
- 8 Pope Gosser Victorian tea cups
- 8 Pope Gosser Victorian tea saucers
- Pope Gosser Victorian serving platter
- 45-piece Oneida silverware setting
- 8 white linen napkins
- 8 Victorian broach napkin holders
- Victorian hat & hat stand
- Shabby chic candelabras
- Victorian candy jars
- 60 inch round Victorian lace tablecloth
Summer Art
School Raffle~
A vintage mink stole and a full-length fur coat will be raffled at the GFWC Illinios State Convention with proceeds funding Art School scholarships. Please buy tickets for $1 each or 6 for $5! Winners will be drawn at the Awards Luncheon.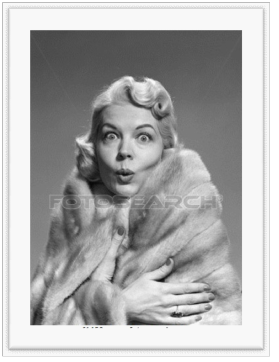 Please send a local student to Art School this summer! Contact Chairman Dee Lenzi (811 Lakeshore Drive Tuscola
61953 217.253.4488) with questions or if you would be willing to collaborate with another club to provide a student with a scholarship. It will give you a "warm and fuzzy" feeling! Thank you.